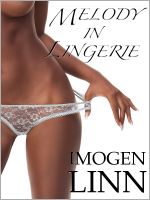 I give it five stars out of five.
Hot stuff, and there is a bit of depth to it. The story is fairly short, and it gets to the point - the point being a tasty sex scene - fairly quickly, but there is also a pretty interesting set of character dynamics. You get to see a timid young woman reaching a point where she wonders if she can take the next step.
It's an interesting look at BDSM through the eyes of someone entering that world for the first time. Her reactions feel authentic. She's scared, uncertain, turned on, and a bit shocked at herself as she realizes what she's doing.
It works well as a stand-alone story, but I like the fact that Melody and her new lover have several more adventures ahead of them.
See Melody in Lingerie on Smashwords